ARTIST STATEMENT
Montina (b.1989)is a Toronto based artist who graduated with a BFA in Drawing and Painting from OCAD University. She currently resides in Toronto painting nostalgic imagery fuzed with contemporary expressionism. Montina is in the studio daily, often collaborating with her toddler, creating original and commissioned work.
Each painting evolves as a wrestling match between loose, gestural paint and the restraint needed to pull it together into an emotionally charged subject. The varied themes blend and melt into each other within a highly saturated colour palette.
Montina's paintings explore subjects and emotions translated from her Metis ancestry, memories, mediations, dreams, and repressed memories. Mirroring the human condition, each piece is full of overlapping marks of information. Her practice works with the subconscious layers that make up the self and her painting is the vehicle for capturing these energies and directing them into a healing experience.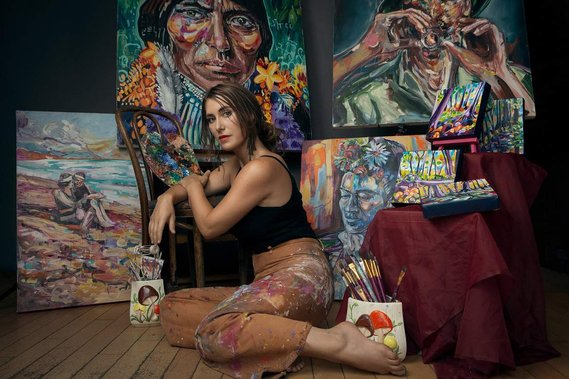 ARTIST HISTORY

Montina Hussey was raised in a valley by the woods outside of Goderich, Ontario. The youngest of nine artistic siblings, she had to find a way to stand out amongst the booming wail of guitars and poetry, and at an early age, she found paint. Grabbing her fate by the reigns, she left home to study drawing and painting at OCAD University. Moving to Toronto was the taste of adventure she needed, and when the highly coveted opportunity to practice in Florence Italy was presented, she threw caution to the wind and set sail to the other side of the world, pushing her artistic craft to the limits.


In Italy Montina found a peacefulness while focusing on her body of work, the expansive experience of travelling the world opened doors to subject matter once hidden behind distractions back home. Diving deeply into her own shadows a grotesque beast entangled with sexual trauma and an insatiable appetite emerged, her work would begin the healing of deeply rooted ancestral memories vibrating through the very fabric that howls in the deepest part of her spirit. Her graduating thesis was more cathartic and meaningful than any accolade or certificate could represent. By fearlessly painting and painstakingly scratching away at the borders imprisoning her demons, exploring epigenetic memory and intergenerational trauma in her coup de gras "Vera" on display in Stratford... not only did Montina graduate, she's now been granted her freedom.


Montina paints daily along side mothering her 3 year old son. Montina's art practice is now thriving through commission work, teaching, and her own exploration in the studio.